The Fifth Cohort of the Carnival Gold Scholars Received Full-Ride Scholarship Awards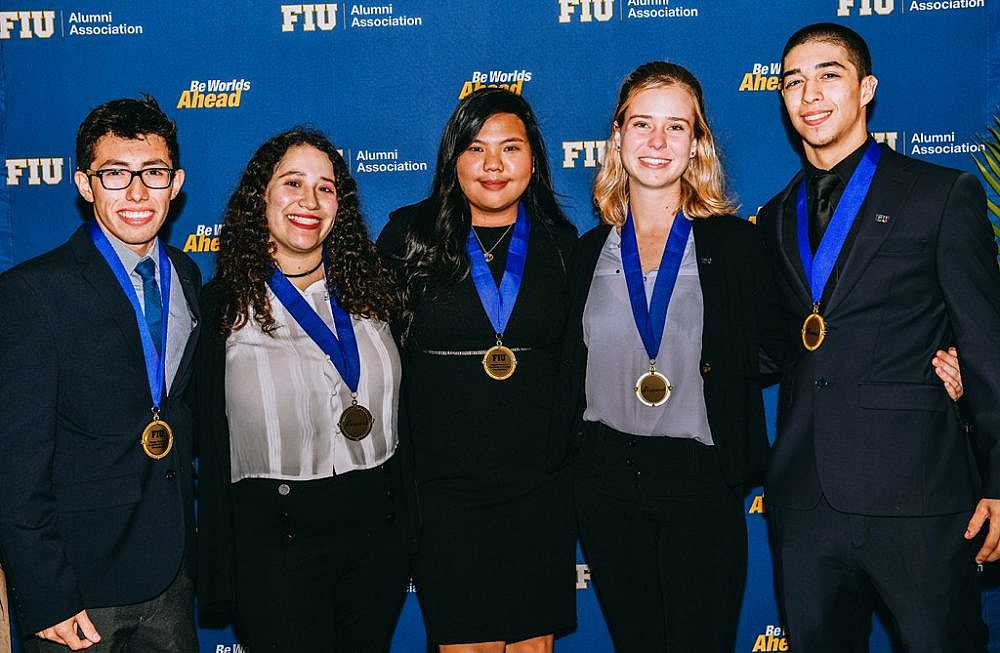 It was an evening reception at FIU's Chaplin School of Hospitality & Tourism Management in celebration of some of FIU hospitality management's most accomplished freshmen, but also appreciation to the Carnival Foundation.
For the fifth consecutive February, five hospitality students took on the honor of being called Carnival Gold Scholars as they received full-ride scholarship awards from the Carnival Foundation, the philanthropic arm of Carnival Corporation & plc., to pursue their bachelor's degree in hospitality management.
Vicky Chapas, Alejandro Garcia, Leeanne Grunow, Rodrigo Sanz and Ariane Uy earned the scholarships, including room and board, for their excellence inside and outside the classroom.
The Carnival Gold Scholars are chosen based on their incredible scholastic achievements, their commitment to community, proven leadership qualities, communication skills, and financial need.
"Providing scholarships for students is not just an investment in the students' future, it's an investment in our future," said Arnold W. Donald, Carnival CEO.
This scholarship provides FIU hospitality students, many of whom work full time, with opportunities and access they would otherwise not have. It gives them the ability to take advantage of study abroad opportunities, participate in global competitions and attend industry conferences among many others.
"It can only be described as an alignment of stars when an incredible company like Carnival and an institution like FIU find such affinity. Words cannot express how excited we are about our growing relationship. We are looking forward to our faculty and students working with the Carnival team to solve the challenges that face our industry as we embrace the future. Together, we will redefine hospitality education and the industry," said interim dean Michael Cheng.