Sailing Toward a Brighter Future Together
Whether it's the number of families helped by one of our partners or moving words about how our program changed a student's life, Carnival Foundation is proud of the impact we have and the lives we touch.
Impact Through our Grants in 2015:
2,717

Children with life-threatening illnesses served through The Painted Turtle's Medical Specialty Camp

65

Families served through Cancer Support Community's Pediatric Oncology Program

26

Students granted scholarships for room, board and other unmet needs by the United Negro College Fund

2,750

Youth served through Boys & Girls Clubs after-school programs

456

Homeless women and children assisted at Lotus House

327

Foster youth assisted through Voice for Children's Transitioning Youth Project

106

Women assisted by Women in Distress of Broward County's Emergency Shelter and Supportive Service

2,580

People with intellectual and developmental disabilities assisted by Best Buddies International

55

Children and teens served through Children's Harbor's Residential Foster Care Program

750

Students assisted to gain admission into college by OneGoal's college-prep program

60

Students supported in Junior Achievement's BizTown Educational Summer Camp
450

At-risk girls supported by the Women of Tomorrow Mentor and Scholarship Program

19,000

Students assisted by Teach for America's educational programming

6,573

Children served by the YMCA's Village of Allapattah Preschool Center

660

Elementary students educated on conservation through the Zoological Society of Florida's Carnival Kids Program

126

Visually impaired young adults participated in Miami Lighthouse for the Blind's Music Education Initiative

1,200

Special needs children able to participate in the Special Olympics

7,000

People served through Branches' Thanksgiving Meal Delivery Program

1,297

Diabetes patients supported through the Diabetes Research Institute's Education Center

334

Children served through Baltimore's Port Discovery Children's Museum's after-school enrichment programs

10,000

Clients received support services through the Sant La Haitian Neighborhood Center

200

Students and their families served through the Hispanic Scholarship Fund's College Camp
150

Girls able to participate in the Honey Shine Mentoring Program's summer camp

100

Boys served by Boy Scouts of America's Multi-Cultural Program Initiative

570

Homeless served by Broward Partnership for the Homeless' Workforce Development Program

9,147

Students educated through Florida Grand Opera's educational outreach programs

200

Students educated by the Aquarium of the Pacific's Ocean Science Education Program

73

Children helped through Kids in Distress' Preschool PLUS Program

4,000

Students educated through City Theatre's educational outreach programs

63

Cancer patients received free medical care from La Liga Contra El Cancer

3,450

Students educated by HistoryMiami's educational outreach programs

751

Children with special health care needs assisted by the Children's Diagnostic & Treatment Center's Dental Clinic

57

Students with disabilities participated in Easter Seals' Culinary Arts High School program
Testimonials:
"I had never met anybody like Marty Goldman. He's almost like a second father figure to me, he's guided me through a lot of things that my actual father didn't. He's always been there for me, he's willing to listen to the problems that I've faced, willing to help me through school, through any of the struggles that I've ever faced, and that's really what matters to me. That's what a friendship should be about." — Jodennis Sanchez, graduating class of 2016 Scholarship Recipient; majoring in Psychology at Miami Dade College
"The Carnival Kids Programs has stimulated the interests of students in science and technology. We see an increase in class performance as well as students feeling empowered as environmental stewards. Thank you for bringing this immersive educational program to our students." — Ms. Nunez, Principal of John G. Dupuis Elementary School
"Getting to know my 'little' and getting to see him grow, mature and make the right decisions has been the most fulfilling aspect of this experience." — Rick Miguez, Carnival Corporation's vice president and deputy and general counsel; mentor in the Carnival Scholarship & Mentoring Program
"The Zoological Society's Carnival Kids Program has exposed our students to South Florida's environment and living things around them. It gives them the opportunity to make a difference." — Michelle Llama from Mandarin Lakes k-8, 5th grade
"The care that our son Aaron received at the Carnival Cares for Kids Center at Holtz Children's Hospital was excellent. The medical team made each day so much better with their compassion and expertise. We felt like we were constantly surrounded by family during our son's five weeks in the pediatric intensive care unit." — Sammie Willis and Katherine Beaton
"Going from freshman Steven to senior Steven, knowing that it was all worth it and I was finally able to pay for the university of my dreams, it's great to know that those four years with my mentor, Scott Nelson, vice president of shipboard human resources for Carnival Cruise Line, really paid off to get the Carnival scholarship." — Steven Ortiz, graduating class of 2015 scholarship recipient; majoring in Civil Engineering at the University of Florida
"Four years ago I was a shy person, it would be hard for my mentor to get me to say anything. He has seen me grow into a better person. Now I can finally speak in front of people. We finally have conversations and he's helped me through that and given me advice. He's been through it all with me." — Harold Lopez, Carnival Scholarship & Mentoring Program student and scholarship recipient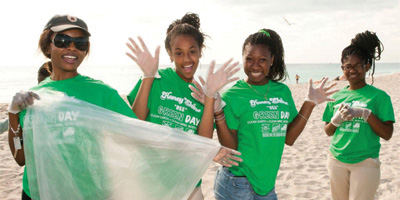 "Honey Shine helped me make new friends. The program has taught me new things and how important it is to care for one another." — Camila Mora, Honey Bug
"I think everyone can do something to make our community a better place, be it through their work or volunteering their free time. I'm glad that the Carnival Foundation and the F.U.N. Team help make that easier for us with so many different types of volunteering opportunities. It's great to know that our company cares about the community and very rewarding to see the impact we can have with just a little bit of our time." — Christian Deese, Business Analyst, Deployment Implementation, Fleet Deployment, Carnival Cruise Line, 2015 F.U.N. Team Volunteer of the Year
"I came into the Carnival Scholarship & Mentoring Program always knowing one person could make a difference, and I wanted to be that one person for someone. When I go home at night I share my stories of being a mentor with my own children, and I'd like to think it makes me a better person and a better dad." — John Harshaw, Carnival Corporation's vice president, global IT infrastructure; mentor in the Carnival Scholarship & Mentoring Program
"I know the program is called Big Brothers Big Sisters, but he really played the role as my father here at Carnival. He also made sure that I was intact… he played a huge role in my high school success." — Keno Tate, graduating class of 2016 Scholarship Recipient, speaking about mentor Gregg Zalkin, Manager, Group Strategy at Carnival Corporation & plc.
"Most of these students have never been to the Everglades or had up-close encounters with animals. This opportunity has furthered their awareness of the environment and their actions. Thank you for all you have done for these students." — Mr. Hudson, Teacher at William A. Chapman Elementary
"Through the F.U.N. Team, I'm able to go out into the community with my work family and do something that will make a difference in someone's life. One of my favorite projects is the Bay Oaks project. Watching the residents become competitive over bingo and helping those who may not be quick enough to see the numbers on their card win a game really starts my Saturday off on the right note!" — Petra Helstone, Former F.U.N. Team co-chair
"I'm the first person in my family to go to college. I'm doing better for my family and everyone is in a better place. You work hard, go to school every day, try to get your grades right, try to get the Carnival scholarship and when you finally get it, it hits you all at once. I think if I knew my mentor at a younger age, my parents would have chosen him as my godparent. Everything you see out of me in the Carnival Scholarship & Mentoring Program is because of him. I look up to Arnie [Perez, Carnival Corporation's general counsel and senior vice president, legal]. The suit, the way I dress, he taught me everything about that." — Alex Moody, student and scholarship recipient
"We the Honey Bugs want to give a special thanks to you and your team for all of the wonderful things you do for Honey Shine. We want you to know how much we appreciate everything you do for us; all of the extra time and effort you put into providing us with what we need does not go unnoticed." — Zaria Jones, Honey Bug
"This program actually gives so much to the mentor. Watching Karen develop over the last few years has been extremely rewarding; she's come in with such hope and such optimism, and watching her progress, to me, is greatest gift I could ever ask for." — Caroline Lombardi, director of youth experience, Carnival Cruise Line, speaking about her Little Karen Ortega, graduating class of 2015 Scholarship Recipient
"He's grown. I've grown. You know he's helped me, what he doesn't realize, just in becoming a better person. And that's what I think a lot of people don't realize, mentoring is so deep and profound that the mentor grows form this process." — Vladimir Lindor, senior family support specialist, Guest Care Team, Carnival Cruise Line, speaking about his Little Samuel Dervil, graduating class of 2015 Scholarship Recipient