Sailing Toward a Brighter Future Together
Whether it's the number of families helped by one of our partners or moving words about how our program changed a student's life, Carnival Foundation is proud of the impact we have and the lives we touch.
Impact Through our Grants in 2018:
3,206

Children with life-threatening illnesses served through The Painted Turtle's Medical Specialty Camp

800

At-risk girls supported by Women of Tomorrow Mentor & Scholarship Program

2,750

Youth served through Boys & Girls Clubs of Miami after-school programs

680

Homeless women and children assisted at Lotus House

1,151

Foster youth assisted through Voices for Children Foundation's Children's Needs Program

32,556

Emergency shelter nights provided to women survivors of domestic violence and their children by Women in Distress of Broward County's Shelter

100,000

Volunteers offered one-on-one friendships with people with intellectual and developmental disabilities assisted through Best Buddies International

2,600

Students assisted to gain admission into college by OneGoal's college-prep program

450

Students supported in Junior Achievement's BizTown Educational Summer Camp

20,000

Students from Miami-Dade's highest need schools assisted by Teach for America's educational programming

1,000

Families served through YMCA of Water Safety/Drowning Prevention Program

750

Elementary students educated on conservation through the Zoo Miami Foundation's Carnival Kids Program
1,500

Children with intellectual disabilities served through Special Olympics' Young Athletes Program in Baltimore

5,602

People served through Branches' Thanksgiving Meal Delivery Program

18,000

Diabetes patients served through JDRF's outreach programs

1,031

Children served through Baltimore's Port Discovery Children's Museum's after-school enrichment programs

5,000

Clients received support services through the SantLa Haitian Neighborhood Center

351

Students and their families served through the Hispanic Scholarship Fund's College Camp

200

Girls able to participate in the Honey Shine Mentoring Program's summer camp

90,000

Students served through educational programming by Museum of Discovery and Science

729

Homeless served by Broward Partnership's workforce development program

5,000

Students served through Florida Grand Opera's educational outreach programs

2,095

Students educated by the Aquarium of the Pacific's Ocean Science Education Program

1,722

Children assisted by Kids in Distress FIRST Program
20,000

Students educated in 50 schools through City Theatre's educational outreach programs

40,000

Children served through visits and educational programming by Miami Children's Museum

650

Children with special health care needs assisted by the Children's Diagnostic & Treatment Center's Dental Clinic

1,300

Students served through Breakthrough Miami's academic enrichment program

539

Wishes granted to terminally ill children by Make-A-Wish Foundation

4,764

Warm coats distributed to low-income children through Operation Warm

7,000

Cancer patients assisted at Sylvester Comprehensive Cancer Center through Dolphins Cancer Challenge

1,374

Backpacks distributed to low-income families containing nutritious food through Lowcountry Food Bank's Hunger-Relief Program

822

Homeless residents placed in jobs through Chapman Partnership's Job Development and Placement Program

500

Students served with educational and enrichment services by Overtown Youth Center
Testimonials:
"When I started this program four years ago, I had no idea what I was getting into. After the first site visit freshman year, Nicole was not a stranger anymore. She was my sister, my mentor, and my rolemodel. She has been an incredible help to me as a person and a student." — Amaya King, graduating class of 2018 Scholarship Recipient; majoring in Biology at Spelman College
"I think everyone can do something to make our community a better place, be it through their work or volunteering their free time. I'm glad that the Carnival Foundation and the F.U.N. Team help make that easier for us with so many different types of volunteering opportunities. It's great to know that our company cares about the community and very rewarding to see the impact we can have with just a little bit of our time." — Christian Deese, Business Analyst, Deployment Implementation, Fleet Deployment, Carnival Cruise Line, 2015 F.U.N. Team Volunteer of the Year & 2017-2019 Co-Chair
"The Carnival Kids Programs has stimulated the interests of students in science and technology. We see an increase in class performance as well as students feeling empowered as environmental stewards. Thank you for bringing this immersive educational program to our students." — Ms. Nunez, Principal of John G. Dupuis Elementary School
"Participating in the Dress for Success LeadHERShip program has been very meaningful for me because it allows women to be empowered and for them take their career to the next level." — Donnise Webb, Director of Litigation Counsel, Carnival Cruise Line; mentor in the Dress for Success LeadHERShip Program
"The care that our son Aaron received at the Carnival Cares for Kids Center at Holtz Children's Hospital was excellent. The medical team made each day so much better with their compassion and expertise. We felt like we were constantly surrounded by family during our son's five weeks in the pediatric intensive care unit."— Sammie Willis and Katherine Beaton
"Four years ago I was a shy person, it would be hard for my mentor to get me to say anything. He has seen me grow into a better person. Now I can finally speak in front of people. We finally have conversations and he's helped me through that and given me advice. He's been through it all with me." — Harold Lopez, graduating class of 2013 Scholarship Recipient; graduate of Florida International University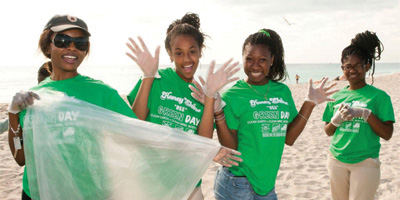 "Honey Shine helped me make new friends. The program has taught me new things and how important it is to care for one another." — Camila Mora, Honey Bug
"I came into the Carnival Scholarship & Mentoring Program always knowing one person could make a difference, and I wanted to be that one person for someone. When I go home at night I share my stories of being a mentor with my own children, and I'd like to think it makes me a better person and a better dad." — John Harshaw, Carnival Corporation's vice president, global IT infrastructure; mentor in the Carnival Scholarship & Mentoring Program
"I know the program is called Big Brothers Big Sisters, but he really played the role as my father here at Carnival. He also made sure that I was intact… he played a huge role in my high school success." — Keno Tate, graduating class of 2016 Scholarship Recipient, speaking about mentor Gregg Zalkin, Manager, Group Strategy at Carnival Corporation & plc.
"We the Honey Bugs want to give a special thanks to you and your team for all of the wonderful things you do for Honey Shine. We want you to know how much we appreciate everything you do for us; all of the extra time and effort you put into providing us with what we need does not go unnoticed." — Zaria Jones, Honey Bug
"He's grown. I've grown. You know he's helped me, what he doesn't realize, just in becoming a better person. And that's what I think a lot of people don't realize, mentoring is so deep and profound that the mentor grows form this process." — Vladimir Lindor, senior family support specialist, Guest Care Team, Carnival Cruise Line, speaking about his Little Samuel Dervil, graduating class of 2015 Scholarship Recipient