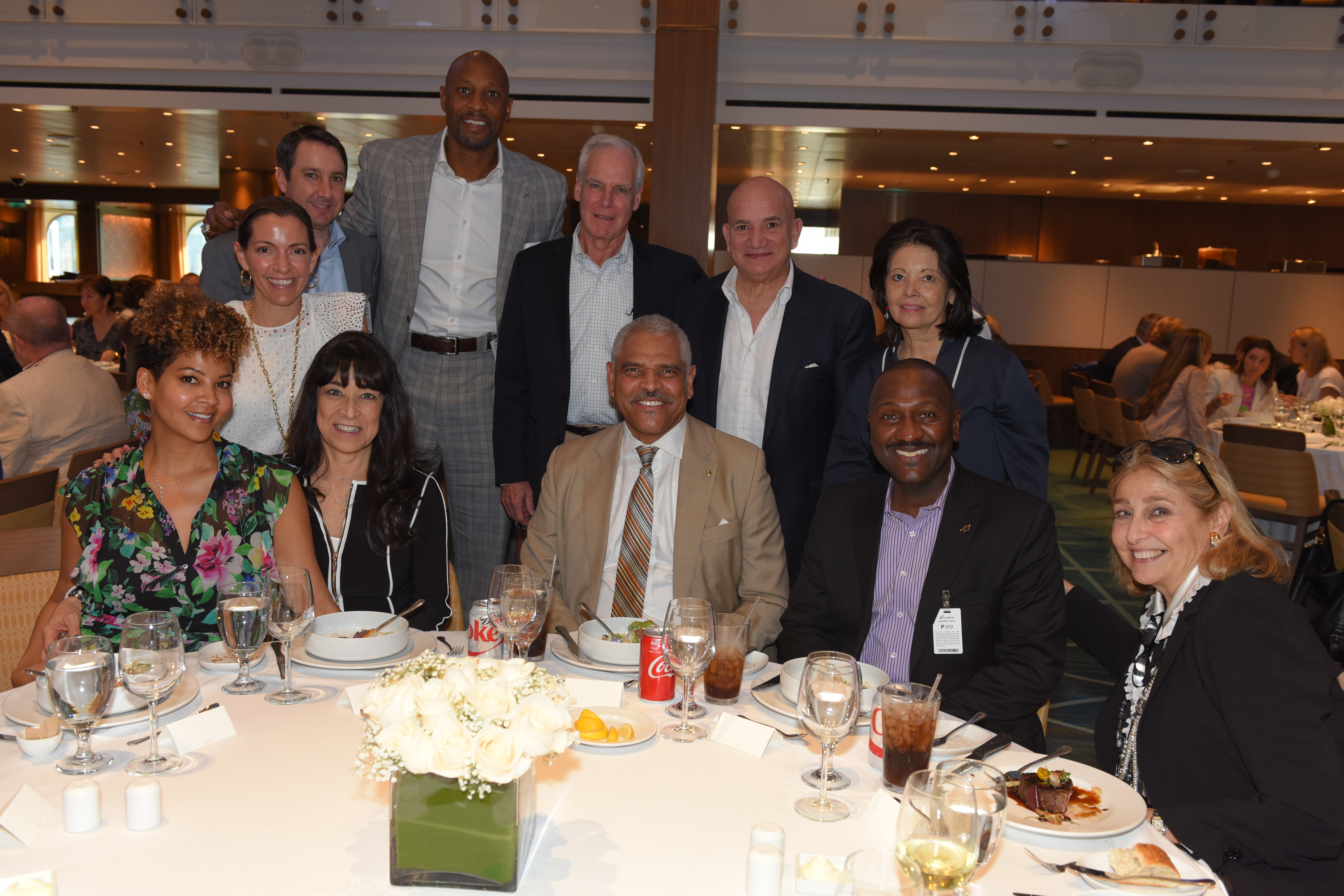 Carnival Foundation Holds First Partner Appreciation Luncheon Aboard Carnival Vista at PortMiami
Carnival Corporation President and CEO Arnold Donald joins executives from top nonprofit organizations to celebrate partnerships
MIAMI (Jan. 31, 2018) — Carnival Foundation, the philanthropic arm of Carnival Corporation, held its first Partner Appreciation Luncheon Saturday, Jan. 27, 2018, aboard Carnival Cruise Line's Carnival Vista at PortMiami. Approximately 120 presidents, CEOs and key executives from 65 different partner organizations across the United States attended the event.
Arnold Donald, president and CEO of Miami-based Carnival Corporation — the world's largest leisure-travel company — joined Linda Coll, executive director of Carnival Foundation, as co-host of the luncheon.
"Carnival Foundation has been part of the community for more than 25 years, and until now we've never gotten all of our partners together to say thank you for all of the work that they do," said Donald during a pre-lunch reception. "Carnival Foundation doesn't just give financial support — it looks for long-term relationships. We are continually inspired by the commitment, creativity and passion of our partners."
A highlight of the afternoon was a raffle donating two Carnival Cruise Line cruises for attendees to use for their organization's fundraising efforts. Make-A-Wish was the winner of a three-, four-, or five-day cruise, while Sant La Haitian Neighborhood Center won a longer seven- or eight-day cruise.
Photo Caption:
Standing, from left: Carolina Garcia Jayaram, president and CEO, National Young Arts Foundation; Chris Maragno, vice president, corporate partnerships, Miami HEAT; Alonzo Mourning, founder, Mourning Family Foundation and Overtown Youth Center; Howard Herring, president, New World Symphony; Carlos Migoya, president and CEO, Jackson Health System; and Lydia Muniz, chief executive emeritus, Big Brothers Big Sisters Miami.
Seated, from left: Tracy Wilson Mourning, founder, Honey Shine; Linda Coll, executive director, Carnival Foundation; Arnold Donald, president and CEO, Carnival Corporation; Gale Nelson, president and CEO, Big Brothers Big Sisters Miami; and Suzie Sayfie, executive director, The Miami Project to Cure Paralysis.
# # #
About Carnival Foundation
Carnival Foundation is dedicated to creating positive change through empowering youth, enhancing education and strengthening families in the communities where Carnival Corporation employees live and work. Through monetary and in-kind donations, innovative philanthropic programs, employee fundraisers and hands-on volunteer initiatives, the foundation supports hundreds of organizations annually with primary funding focused in the areas of the arts, human needs, education and health.
Carnival Foundation partners include National YoungArts Foundation, New World Symphony, Florida International University, Buoniconti Fund to Cure Paralysis, Best Buddies International, The Nature Conservancy, Dress for Success Worldwide, United Negro College Fund, Hispanic Scholarship Fund and Feeding South Florida. Its website is www.carnivalfoundation.com.