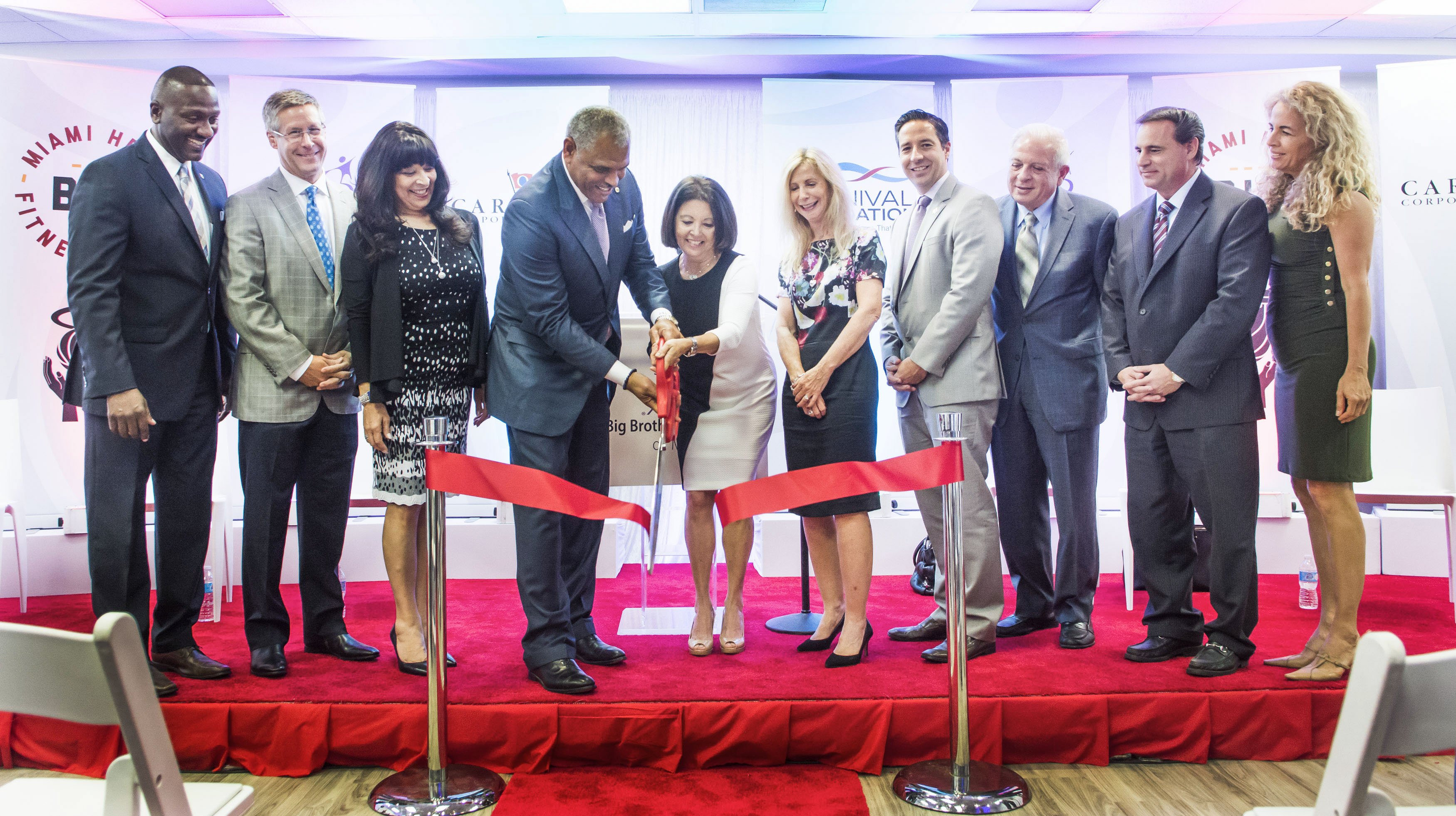 Carnival Foundation and Big Brothers Big Sisters of Miami Celebrate Grand Opening of $5 Million Carnival Center for Excellence
MIAMI (April 4, 2016) — Carnival Foundation, the philanthropic arm of Carnival Corporation, and Big Brothers Big Sisters of Miami today celebrated the grand opening of the new BBBS headquarters, the Carnival Center for Excellence. The center was made possible through a $5 million gift from Carnival Foundation, the largest corporate gift ever bestowed on the Miami chapter and the largest ever provided to any local affiliate chapter of the national nonprofit youth mentoring organization. In addition, the National Basketball Association's Miami HEAT Charitable Fund donated a $350,000 state-of-the-art Miami HEAT Big Fitness Room to the facility to promote health and wellness to BBBS participants.
A ribbon-cutting ceremony and news conference took place at the facility at 550 NW LeJeune Road in Miami. The event featured executives of Carnival, BBBS and the Miami HEAT as well as local elected officials and student essay contest scholarship winners, and tours of the facility.
"Carnival Corporation has been a longtime supporter of Big Brothers Big Sisters of Miami through Carnival Foundation and our Scholarship and Mentoring Program, and we are proud that the Carnival Center for Excellence bears our name," said Arnold Donald, CEO of Miami-based Carnival Corporation, the world's largest leisure-travel company. "The facility provides a much-needed new headquarters for Big Brothers Big Sisters of Miami. Most importantly, the facility will help BBBS of Miami continue to have a profound and positive impact on the lives of young people in South Florida for decades to come."
At the ceremony Carnival Foundation Executive Director Linda Coll announced the winners of a recent essay contest in which students described how their mentors have positively impacted their lives. A total of $30,000 was awarded in scholarships and educational resources on behalf of Carnival Foundation to three high school and two middle school scholarship winners. Winners also received laptop computers.
The winners of the contest were 12th grader Crystal Proctor from Miami Carol City Senior High School, 12th grader Martin Menard from North Miami Senior High School, 10th grader Amaya King from Miami Lakes Educational Center, eighth grader Stephen Kelly from Miami Lakes Middle School and sixth grader Ladarrius Blackman from The SEED School of Miami.
"The opening of the Carnival Center for Excellence marks a new era for Big Brothers Big Sisters of Miami, enabling us to provide more facilities, services and assistance to local children and families than ever before," said Lydia Muniz, president and CEO of the Miami BBBS chapter. "The Carnival Center for Excellence will be an inspired hub of mentoring and innovative creative services for local kids, families and volunteers, as well as the general public, and we thank all those partners who are making this possible."
"It's a privilege for the Miami HEAT Charitable Fund to join Carnival Foundation and Big Brothers Big Sisters of Miami in providing students with access to tools for immediate and future success," said Eric Woolworth, president of the HEAT Group's Business Operations. "The Miami HEAT Big Fitness Room offers students a space in which to exercise and socialize, and a positive setting that encourages hard work and dedication."
The Carnival Center for Excellence provides ample custom-designed space to support ongoing mentoring and educational activities for BBBS beneficiaries, known as "Littles." The facility will house more than 50 BBBS staff members, as well an array of much-needed new tools and services. The center will include a "You Media" creative area for music, video and creative digital learning; a computer lab; space for homework and tutoring; life-skill classes; continuing education; and the Miami HEAT Big Fitness Room with exercise equipment, free weights and activity space. The Trish and Dan Bell Enrollment and Matching Center will house the organization's core mentor-student matching function. The Kennedy Family Resource Room and the Bank of America Career Resource Room will provide services to help families and children plan for their future. The Gorson Family Wing on the second floor will serve as the main BBBS boardroom for key leadership strategy meetings and gatherings.
Additional services will be phased in, and tutoring and family classes will be introduced during the first year of operation in collaboration with several corporate and nonprofit partners.
The building is conveniently located on a major thoroughfare with access to public transportation and free ground-level parking.
Carnival Foundation's signature initiative, the Carnival Scholarship and Mentoring Program, pairs Carnival Corporation employees with South Florida high school students matched by BBBS. Currently, 100 of the company's management team members mentor 100 Miami-Dade County high school students through the in-the-workplace program sponsored by Carnival Corporation in partnership with BBBS.
The program also awards four-year college scholarships to 15 participating students every year. During the past 13 years, Carnival Foundation has purchased Project STARS scholarships representing a collective value of more than $2.1 million. Since 2010, 105 scholarships have been awarded, and the first group of Carnival Scholarship recipients graduated college in 2014.